If you're into snow, mountains and skiing, ski touring is for you! For some, it's about the journey through snowy mountains going from one mountain hut to another. For others, it's more about gaining access to fantastic mountain ranges and skiing down untouched snow, or scaling stunning mountains. In either case, discovering new places and being part of a group working together, sorting out routes and enjoying a meal and a drink in a warm mountain hut, is a key attraction for many. But it can also be hard work! This section provides an introduction to going ski touring.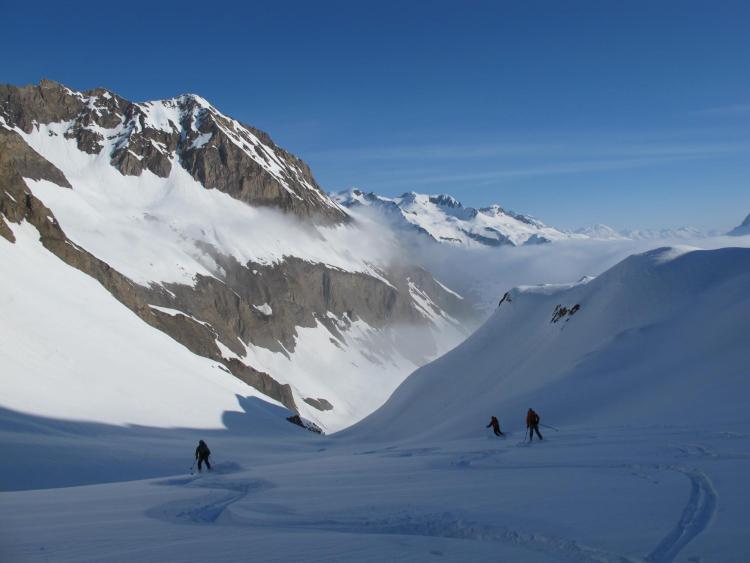 What is ski touring?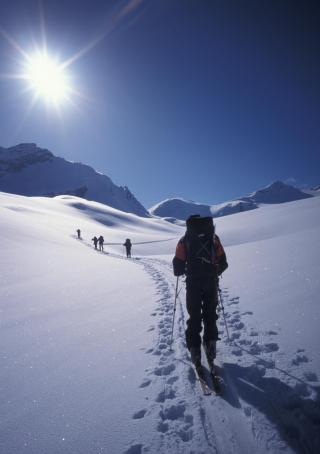 Ski touring and ski mountaineering are essentially the same activity – travelling through snow covered terrain, using skis to go both uphill and downhill. Ski mountaineering emphasises getting to the tops of mountains along the way, and ski touring emphasises the journey, but there is a lot of overlap between the two.
Snow transforms the mountain landscape and provides fantastic opportunities to explore near and far. There are lots of us who, having enjoyed skiing in or near pisted areas, have ventured out beyond the patrolled areas to explore the mountains.
To travel uphill on skis, we use "skins", which are stuck to the bottom of the ski - these allow the ski to glide uphill, but not slip back down. At the top of the hill, the skins can be removed and you can then ski downhill. The chance to make first tracks on a long descent well away from civilisation amongst spectacular mountains is what brings many of us into the world of ski touring.
Ski tours can vary from an hour or two to a multi-day trip staying in mountain huts to a more adventurous expedition to a remote area. 
What are the risks and challenges?
Like all outdoor activities, ski touring has risks associated with it. You need to be able to ski in variable off-piste snow, and there is a marked increase in risk from avalanches, terrain, remoteness, poor weather and poor decision-making. Each skier needs to accept, recognise and manage these risks. Being part of a good team and working as a team are essential. It also requires different equipment (see below). Being reasonably fit is also helpful - days can be long and you're skinning uphil for several hours and then skiing downhill with a rucksack on your back. The fitter you are, the more you will enjoy it! More information on fitness levels is here.
How good a skier do I need to be?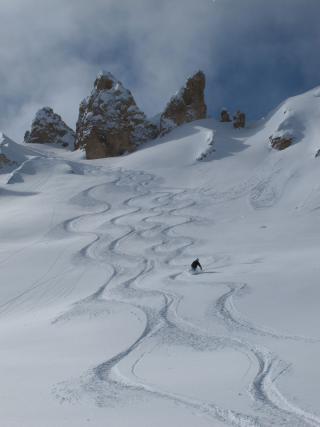 As with fitness, the better an off-piste skier you are, the more you will enjoy ski touring. If you can ski well on pisted red runs and have some off-piste experience, then that is a good starting point for going ski touring.
On a ski tour, you will often encounter many types of snow, depending on recent weather history and changes in altitude and slope aspect changes. So you may have to deal with everything from fluffy powder and spring snow through to crud and breakable crust!
Many of our members go skiing on piste as well as attending off-piste training courses. It's always helpful to brush up on technique and gain some confidence. At the very least, this will allow you to enjoy a ski tour rather than just surviving it.
More information on skiing levels can be found here.
What equipment will I need?
Ski touring requires a reasonable amount of specialised equipment, and the costs of acquiring it all in one go can be quite expensive. If you don't have any equipment, the best approach is to hire the equipment to start with and see if you like ski touring before investing further.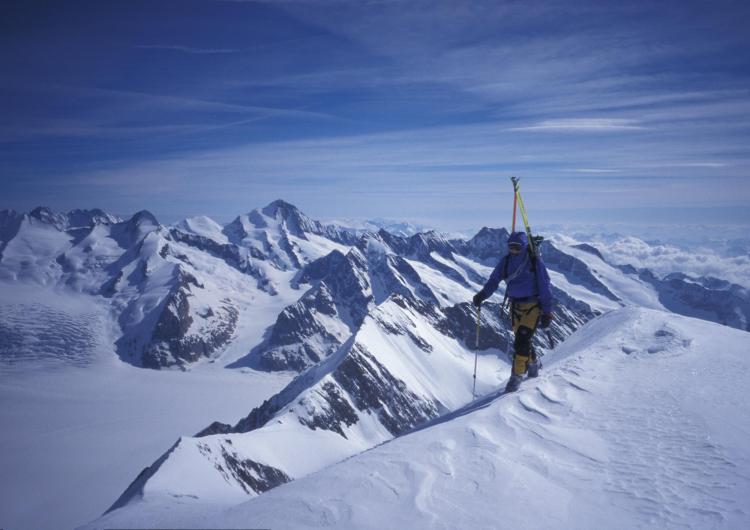 The items which are essential for all tours are:
Skis with touring bindings - many of our members use alpine ski equipment (where the heel of the ski boot is locked down for downhill skiing), though some are telemark or freeheel skiers
Ski touring boots - these are lighter and more comfortable for walking than standard downhill ski boots, and are more secure on steep ground (you can fit boot crampons to them). 
Skins - these are now made from nylon or mohair and stick to the bottom of the ski (they allow the ski to glide uphill, but not slip back down).
Harscheisen - these are ski crampons that are used whilst skinning uphill in icy conditions, and stop the ski slipping.
Avalanche transceiver - this is a small radio device which allows a skier to be found underneath avalanche debris. This is essential safety equipment.
Probe and shovel - these are essential bits of equipment which will help you to find and dig out someone buried under the snow. The shovel must have a metal blade (plastic shovels are not very effective at cutting through avalanche debris).
You will also need to have suitable clothing, rucksack, ski goggles etc. If your ski tour includes some glacier travel or some climbing, you will need a harness. If you're climbing, you will also need crampons and ice axe.
How do I get started?
If you are starting from a skiing background and already have a reasonable level of off-piste skiing skills, then probably the best way to get started is by attending an Introductory Ski Touring course. Our Club normally provides one such course each year as part of the Club Touring Programme, and similar courses are offered by many mountain guides and the national training centres (Plas y Brenin, Glenmore Lodge). Such a course will provide a good grounding in basic ski touring skills as well as things like avalanche awareness and crevasse rescue.
If you're starting from a mountaineering background and haven't done much skiing, then attending an off-piste training course might be a good way of finding out if you enjoy off-piste skiing.
Once you've done this, you can start thinking about going on a week long ski tour. Some tours are quite difficult and challenging (such as the Haute Route) whilst others are a bit easier (such as the Silvretta tour). Doing one or two easier ski tours, with a mountain guide or with an experienced club member, will help to hone your skills and improve awareness of the challenges and how to manage these. 
How do I find out more?
The Skills area of the website provides more general information about different aspects of ski touring. Specific questions may already have been raised (and answered) within the Forum topics.