The "My Account" section of the website allows you to:
Change your password.
Update the e-mail address held by the system (this address is used to send any notification of news items or updates on the website).
Update your personal information and contact details (title, initials, last name, preferred first name, suffix, address, phone numbers, gender, date of birth).
View whether your address and email are valid. These fields are unset if yearbooks are returned or emails fail; and they will be reset when new address/email information is updated.
Edit your "Profile" – which is a short description of yourself.
Select your regions of interest. Your home region is set by default. Other regions may be selected in order to receive targeted information about them.
Update your experience information (skiing level, mountaineering level, qualifications).
View your membership status, date of joining and subscription details (amount paid and year subscription paid).
Subscribe or unsubscribe to e-mail newsletters. (Default = yes).
Opt-in or opt-out of sharing contact details with other members. (Default = yes).
Opt-in to becoming an individual member of SnowSport England. (Default = no).
Edit "Contact Settings" which determines whether or not other club members can contact you via a web form. (Default = yes).
Upload a picture which is used to tag any forum posts you make.
To make any changes, once you are logged in, select "My Account" from the main menu bar: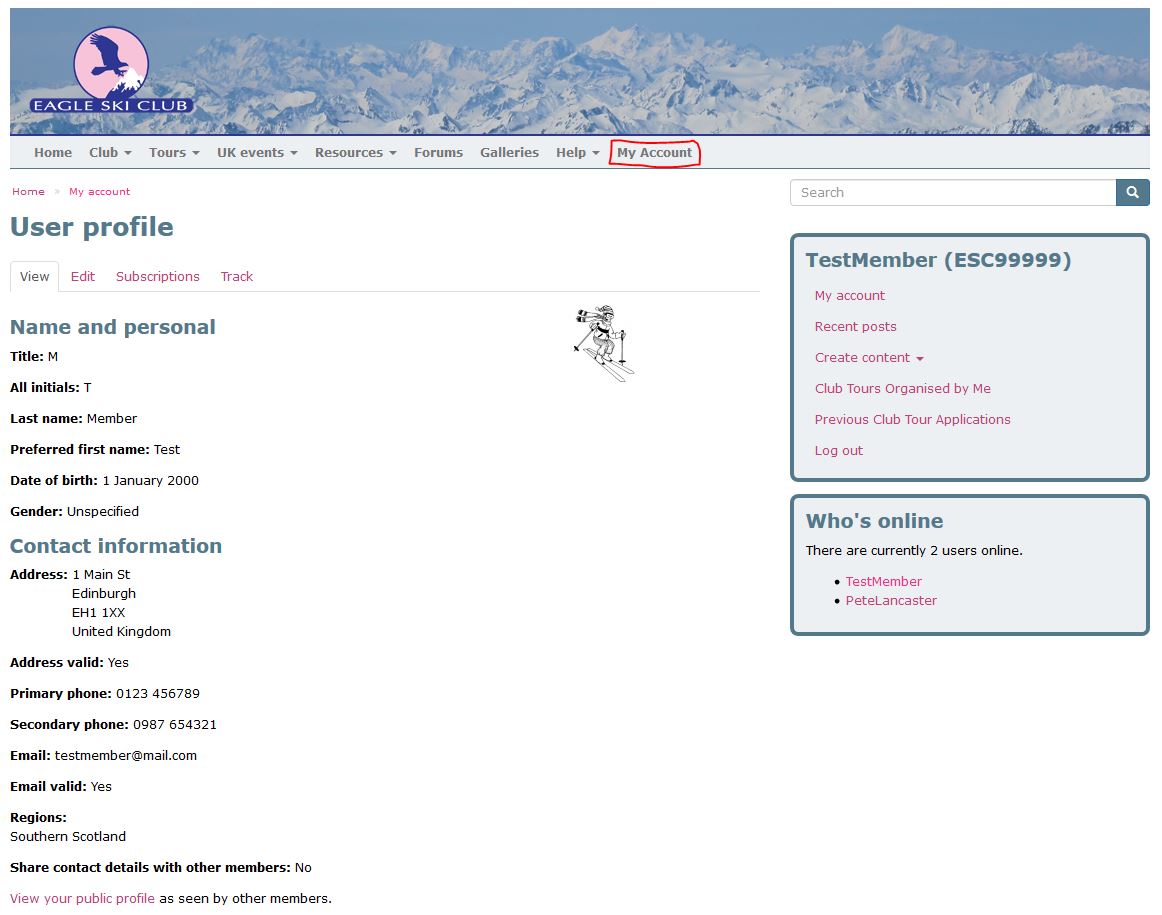 Then select "Edit" to change any of the information as detailed below:
Changing E-mail Address or Password
If you wish to update the e-mail address held by the system, you will need to first re-enter your current password.  The e-mail address is used to send out news items or notification of changes to the website. It isn't visible to other club members (except system administrators).
To change your Password, enter your current password at the top, and then enter your new password twice.
Newsletter Subscriptions
All club members are by default opted-in to receive club newsletters via e-mail (to the configured address - see above). These are limited in frequency to roughly once a month, and the committee hopes that all members will remain opted-in. If however, you don't wish to receive newsletters by e-mail, then uncheck the "Subscribe" option:

Picture
If you wish, you can upload a picture of yourself which is used to tag any forum posts you make. Photos of any size can be uploaded, but they are scaled down to 85 x 85 for display.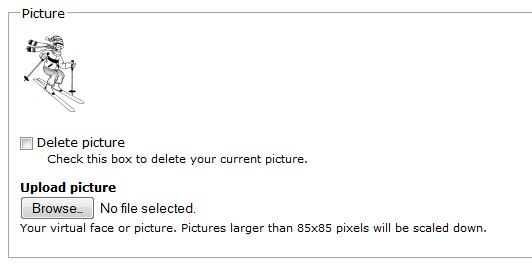 Profile
A profile is a short description of yourself, which other members can view e.g. at www.eagleskiclub.org.uk/profile/testmember. It is particularly useful for guides or leaders of club tours, who may want to explain something about their background, skills and qualifications, or list tours they have previously led for the club.

A profile can contain links (e.g. links to tour reports or a personal website) and pictures (e.g. logos for IFMGA qualified guides).
Contact Settings
This section of "My Account" allows you to set whether or not other members can contact you via a contact form. The default is that members can be contacted this way, but you can turn this off if required. Note that only club members who are logged in to the website will be able to use this facility (not the general public), and the person contacting you won't see your actual e-mail address (even if they request a copy of the e-mail, this doesn't display your address).

To contact someone, go to their profile e.g. www.eagleskiclub.org.uk/users/testmember and select the "Contact" tab: