The Eagle Ski Club runs an extensive ski touring programme in Scotland, the Alps and further afield. These tours can range from informal meets to instructional courses and from to day tours or hut to hut tours to ski mountaineering expeditions to remote ranges.
Some tours are led by guides, who have professional qualifications in the mountain environment and who charge participants a fee for their services; while others are unguided but organised by experienced club members, who are neither paid nor acting as guides. Whilst professional guides take overall responsibility for route planning and decision-making on tours; unguided tours operate on the principle self-responsibility and with a collaborative ethos of "leadership of the group by the group." This usually means that an experienced club "leader" may act as "first among equals", facilitating a group decision-making process in which all members of the group are expected to participate.
The club asks members to be mindful of the inherent risks of ski touring and ski mountaineering and whether guided or unguided to choose tours that match their level of experience in risk assessment. Though most members start with guided touring and some members prefer to stick to guided tours, the club encourages members to develop skills and experience necessary to progress to safe independent touring. To help develop the skills needed for safe and enjoyable touring, we offer a range of training courses both in the UK and abroad. These are intended not just for novices, but also to provide continuous development for more experienced tourers. Some courses are directly subsidised by the club, while Awards are available (mainly targeting members under 35), to cover some of the costs of others. We also include mentoring in a Leader Development Programme to bring forward new leaders for the club's unguided tours.
The Eagle Ski Club provides an organised programme of ski tours which are Club Sponsored Tours, organised and led by either guides or experienced club members, who by and large have been through the ESC Leader Development Programme. In the UK, the club organises an active Scottish Meets programme. In addition, members can also get together to arrange their own Member to Member Tours. In all cases, tours may only be joined by members of the club.
Club Sponsored Tours
The club organises a programme of around sixty "tours" which include hut to hut ski tours, valley based day tours and training courses covering off-piste skiing as well as other topics relating to ski touring. Some of these tours are led by IFMGA qualified Mountain Guides, or other suitably qualified professionals (e.g. BASI ski instructors), and some are led by amateur leaders from the club ("Club Leaders") on the principles of "leadership of the group by the group".
Even though tours appear on the club touring programme, the Eagle Ski Club is not a "tour operator" and is not a party to the financial arrangements between members and the providers of tours or courses. Members taking part in any of the tours on the programme should be aware that the relationship is solely between themselves and the tour organiser - not the club.
The club touring programme is published in the summer (generally July or August) of the year prior to the main skiing season (winter / spring).
Member to Member Tours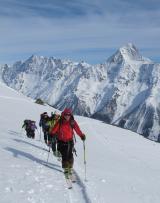 In addition to the tours in the formal club programme, club members may also post details of their own tours on the website, to allow other members of the club to contact them and potentially join their tour.
These tours are known as Member-to-Member tours (M2M); they may either be led by an amateur member of the club, or they may be professionally led but are not promoted by the club other than on the website.
Club members may post details of their tours at any time, but typically details are posted much closer to the main touring season than the club sponsored tours. Club members proposing M2M tours are asked to outline their touring and leadership experience on their club profile so that other members can discuss risk assessment and leadership as a group. Club members on M2M tours are asked to familiarise themselves with the ESC Member to Member tour guidance and invited to use other resource documents in the Skills section of the website covering Avalanche assessment, First aid, leadership skills etc.
Tour Grading System
All tours are graded in order to indicate the skills and level of fitness needed to participate in the tour. These are split into the three categories of Effort, Skiing Technique and Mountaineering Skills using a scale of 1 to 5 e.g. a fairly normal hut to hut tour might be graded E2 S2 M2.
Full details of the Tour Grading System are provided here.