The Eagle Ski Club is a very friendly club with lots of members throughout the UK and overseas. Members usually stay with the club for many years and enjoy lots of ski touring and related activities. The benefits of membership are excellent. This page describes how you can join the Club.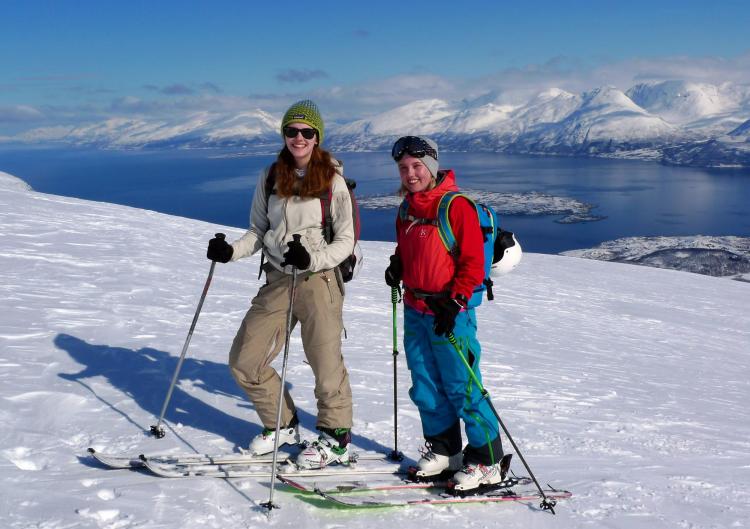 Who can join the Eagle Ski Club?
Membership is open to anyone interested in ski touring, ski mountaineering, or associated activities. The club welcomes competent skiers who are new to ski-touring (see here for more information about fitness and skiing ability), and each year's programme includes an Introductory Training Course, and a guided Introductory Tour. The programme also includes several other professionally-led training courses and guided tours, to allow and encourage members to develop the skills and experience needed for independent and self-reliant touring.
There are no age limits to being a member of the Club, though under our Safeguarding Policy there are some restrictions on under-18s joining tours and other events unless they are accompanied by a parent or guardian.
There is no requirement to be proposed or seconded for membership of the club. If you wish to join the Club and go straight on a tour, you will need to provide referees (who don't need to be club members) who can provide information about your skiing and mountaineering competence.
Please note that we are a club of like-minded individuals, who continue to enjoy ski-touring with other members over many years. We are not a travel agent nor a business offering packaged ski-touring holidays. If that is what you are after, there are numerous commercial organisations and qualified guides providing such services, and you may be better off looking to them for the type of ski holiday you require.
How much does it cost?
Our annual subscription rates are currently:
£35 - British Isles members (postal address in the UK, Channel Islands, Isle of Man or Ireland) - this includes the affiliation fee for Mountaineering Scotland.
£22.50 - British Isles members who wish to pay for their Mountaineering Scotland affiliation fee by another route (such as through a different club).
£27 - Overseas Members (postal address outside the UK, Channel Islands, Isle of Man or Ireland).
Please note that overseas members aren't covered by the club's liability insurance cover which is provided through Mountaineering Scotland, hence the lower membership rate.
The full annual amount is payable on date of joining and then for each subsequent year by direct debit on 1st May. If you don't have a bank account in the UK and can't pay by direct debit, you may pay the initial and ongoing subscription by alternative means (see "how do I join?" below).
Is there a lower rate for young members?
Yes. If you're aged under 30, the cost is currently £10 each year.
How do I join?
The first step is to download and complete a membership form and email it to the Membership Secretary (membership@eagleskiclub.org.uk) or to the address given on the form: 
Membership form (PDF) or Membership form (Microsoft Word)
You need to provide an email address which has not been used by other family members for their ski club membership.
The second step is to make a subscription payment. If you have a UK bank account we will ask you to complete a direct debit mandate on-line through our direct debit agency, GoCardless. Once that is done, we will sign you up as a new member and take your initial subscription under the mandate. If you do not have a UK bank account and are based overseas go to the link to "Pay membership subscription" on the Membership form for alternative payment methods for the initial subscription, and note that you have paid by other means on the completed membership form.
What about ongoing subscriptions?
We collect subscriptions annually on May 1st by direct debit through our direct debit agency, GoCardless. (Though we hope new members will remain with the club for many years, it is obviously possible to resign and cancel the Direct Debit mandate at any time.) You can amend your mandate details at any time from My Account.