The Eagle Ski Club 2018 Ski Mountaineering Symposium was held in the Holiday Inn Hotel at Filton in Bristol over the weekend of 9th - 11th Nov 2018.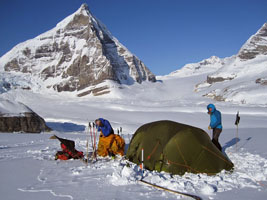 A series of lectures and workshops are scheduled for Sat 10th Nov, but you are encouraged to come for the weekend. The symposium will cover areas of general ski touring interest, with some lectures focusing on ski touring in North America.
Overnight accommodation will be available in the hotel on Friday and Saturday nights, and a dinner (with speaker) will be held on the Saturday night - making this an ideal opportunity to socialise, to meet up with ski touring friends, or to make new contacts.
The Club's AGM will be held at 5pm on Saturday.
On Sunday from 11am to 2pm there is a 3 hour practical Transceiver Training session. This should be booked separately from the symposium, more details can be found here.
Also on the Sunday, local members will be leading activities - the Bristol area offers a wide range of options including the Avon cycleway, single-track mountain biking, city and country walking, roadside cragging or indoor walls, whilst the Gloucester dry ski slope is only a short drive away.
The symposium is open both to members of the Eagle Ski Club and non-members, so this could be a good opportunity to bring a friend who is interested in learning more about ski touring. Follow the link below for the online booking system.

Programme - Saturday 10th Nov
09:00 - 09:15
Registration
09:15 - 09:30
Welcome and Housekeeping
09:30 - 10:15
Touring Possibilities in North America
10:15 - 11:00
Building on Experience
11:00 - 11:25
Break - Tea / Coffee
11:25 - 12:10
Avalanche Avoidance
12:10 - 13:00
Leadership and Followership
13:00 - 14:00
Lunch
14:00 - 15:00
Workshop Sessions #1
15:00 - 15:25
Break - Tea / Coffee
15:25 - 16:25
Workshop Sessions #2
17:00 - 18:00
ESC Annual General Meeting
19:00 - 19:30
Pre-dinner drinks
19:30 - 22:00
Dinner
After dinner speaker: Jonathan Bamber - "Glaciers, climate change and ski-mountaineering"
Saturday Lectures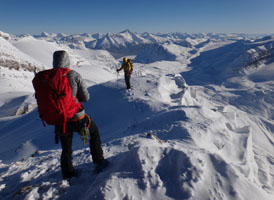 Touring Possibilities in North America - Steve Wright, Declan Phelan and Dave Wynne-Jones 
A general overview of the range of ski touring options and geographical possibilities in ski mountaineering in North America – from side country to road head day touring; from hut or yurt based weeks to multi-day traverses.
Building on Experience - Susie Amann
Lessons and mistakes from expeditionary trips in the Americas.
Avalanche Avoidance - Owen Day
Avalanche conditions and avoidance – generic principles and strategies but with particular reference to North America snowpack.
Leadership and Followership - Brian Horn
Good leadership and followership and its challenges.
Saturday Workshop Sessions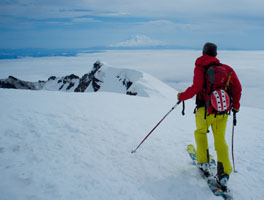 Workshop sessions will be held on Saturday afternoon.
Each topic will be repeated - the first session is 2pm - 3pm and the second session is 3:25pm - 4:25pm.
Participants will be able to attend two sessions - you will be asked to specify your first 3 choices, and allocated on a first-come first-served basis.
Avalanche Awareness Workshop - Owen Day
"Avalanche avoidance where there is no Avalanche forecast" - scenario based learning in small groups.
Navigation in the Digital World - Misha Gopaul
How to use the latest tools to plan, navigate and make better decisions.
Ropework - Rob Collister
A practical introduction to the basic knots and ropework used for ski mountaineering. Please bring your own harness, prusiks, tape slings and any other bits you may have.
Crevasse Rescue - Rob Collister
Practical ropework for crevasse rescue. Please bring your own harness, prusiks, tape slings and any other bits you may have.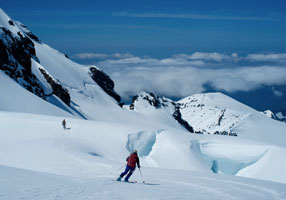 Ski Mountaineering First Aid - Coordinated by Declan Phelan
Scenario based learning with practical demonstrations aiming to develop your knowledge, skills and confidence to handle first aid in remote places. Topics will include hypothermia: prevention and treatment; avalanche first aid, and many other scenarios you hope not to encounter.
Backcountry Equipment - Steve Wright
This workshop will discuss some of the factors to bear in mind when putting together gear for a back country ski trip. The centre of gravity will be equipment for the big North American traverses, but the discussion is bound to range wider.
Ski Touring and Photography – Mike Spencer
Landscapes? Action shots? Portraits? - What makes a good photograph and how do you achieve it?
Without getting too technical, this session is designed to help you plan better photographs. We'll explore basic composition and camera functions to get the most from your equipment. Please bring with you the two latest ESC Yearbooks if possible, together with the camera you usually use on the hill.
Leadership Development Programme - Brian Horn
The core activity of the club is to run a touring programme that includes a strong portfolio of member led tours - day tours, classic alpine hut to hut tours, adventurous trips and expeditions. Where do we get our leaders from? What makes a good leader? This session will explore those questions.
Avalanche Safety: Technology or Psychology - Dave Wynne-Jones
A discussion of technical and psychological factors contributing to avalanche danger limitation.
Getting into more Adventurous Trips - Iona Pawson 
Accommodation
We have negotiated a special rate at the hotel where the lectures and worskhops will be held on the Saturday.
Holiday Inn, Filton Road, Bristol, BS16 1QX. Telephone 0117 910 4200
£80 per night bed and breakfast - single room
£89 per night bed and breakfast - 2 people in double room
If you would like to stay at the Holiday Inn, please book directly with them, mentioning the Eagle Ski Club to get the preferential rate. Please book as soon as you can - the hotel have reserved a block of rooms for us, but these will be released as the event date gets closer.
If you are coming for more than one day, you are welcome to stay at any other accommodation in the Bristol area, and some limited places may be available staying in the homes of club members who live locally (priority for under 30s) - if you are interested in this option please contact Dave Wynne-Jones wordpictures@hotmail.com.
Pricing
Day Ticket
 £42 
Covering all activities on Saturday 10th Nov:
Morning lectures
2 afternoon workshops
Tea and coffee breaks
Lunch
Note - the dinner on Saturday evening is chargeable separately (see below).
Day Ticket (Under 30s) 
 £30
Day ticket for people aged 30 and below.
Evidence of age (e.g. passport etc) may be required.
Saturday Dinner
 £26
3 course dinner at the hotel, with after dinner speaker.
The symposium is open both to members of the Eagle Ski Club and non-members.
Booking
Before booking, please decide which workshop sessions you are interested in (please select your first three choices from the list above - sessions have limited capacity and will be allocated on a first come, first served basis).
To book, please use the booking form. This is fully encrypted and takes payment via debit or credit cards. Each booking can be for up to 4 people in a party. If you need to book for more than 4 people, please make 2 or more bookings.